According to Gartner, running workloads in the cloud yields large efficiency gains and by 2020 83% of all enterprise workloads are expected to be hosted in the cloud. But many cloud migration projects fail to deliver on the goal of moving the services to the cloud that retain the same level of service and access for users in branch offices. Unreliable, low bandwidth Internet links, or legacy MPLS backhauling network architectures, can cause poor performance and service quality resulting in a poor user experience. Intelligent handling of application traffic for Office 365 requires SD-WAN-enabled branch devices. Focused on solving this issue is the combination of the Barracuda CloudGen Firewall with Azure Virtual WAN to ensure robust and consistent access to the cloud. Secure cloud connectivity is inherently complex, requiring VPN tunnels, dynamic routing and much more to be configured. Seamlessly automating this process reduces the complex manual process with a simple yet very powerful tool.
Always-on connectivity – the network is the bottleneck
During the move to cloud many companies face the challenge that the bandwidth and service levels which were previously adequate are no longer acceptable once they're accessing cloud-based workloads. Users expect cloud services to always be available. Traditional backhaul MPLS network architectures reach their breaking point quickly these days. High costs for increased bandwidth requirements and SaaS applications that require direct breakout at the branch, make the previous approach inefficient. The solution is to move to decentralized, distributed networks, where each branch is directly connected to the cloud and SaaS services, such as Office 365, which are more efficient because the network bottleneck is removed and broken out directly. Virtual WAN plus the CloudGen Firewall hit the mark – solving this problem. The on-demand, dynamic nature of cloud services combined with the SD-WAN and central management features of the CloudGen Firewall at the branch come together to bring the best possible direct connection to Azure.
Branch connectivity – resolving local infrastructure challenges
Connecting branches, both in urban and rural areas, can pose its own challenges if the available infrastructure does not meet the bandwidth and latency requirements of modern applications. Especially sites with only one line are always at risk of a complete outage whenever the connection is severed. This can be the result of an ISP failure, or simply something as basic as an excavator accidentally damaging the cable or fiber. To remove this single point of failure and greatly reduce risk, it helps to spread traffic over multiple ISPs that do not use the same network infrastructure for the last mile. Multiple ISPs can introduce a combination of lines, such as DSL and cable. The CloudGen Firewall's years of experience with multi-link site-to-site connectivity are now available for Virtual WAN – guaranteeing simplified and seamless multi-path cloud connectivity.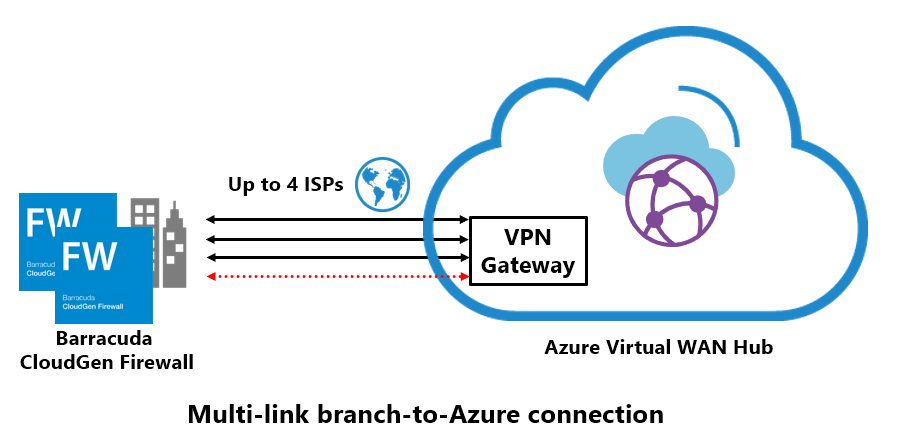 CloudGen Firewall balances traffic for highest performance and automatically reroutes traffic in case of an ISP failure
Helping to pave the path to Azure
Barracuda Networks is working closely with Microsoft and was one of the launch partners for the Virtual WAN service in 2018. Since then we have expanded functionality and this year, we are at the forefront as the first to support multi-link for Virtual WAN. Ease of use was a big focus, and the complete setup is handled transparently for the user. The one-click setup automatically populates link and site settings in Virtual WAN, a few minutes later the device is connected, without any additional interaction from the user. Where previously only one link was used, we now seamlessly distribute traffic over up to four links. This enables multiple ISPs, greatly mitigating the risk of outages. If at least one ISP is still up, the user will likely not notice. Access to business-critical cloud applications is always available. The seamless path selection guards against failures and distributes connections to fully utilize the combined bandwidth of the branch. As an added benefit, the proprietary path affinity feature of the CloudGen Firewall ensures that packets belonging to the same session stay on the same link for more predictable application performance.
"Barracuda CloudGen Firewall is the first to support dynamic path selection across multiple ISPs for Virtual WAN – providing customers always-on, failsafe cloud-connectivity." — Dr. Reshmi Yandapalli, Microsoft's Principal Product Manager of Azure Networking
The Barracuda cloud-generation advantage
The Barracuda CloudGen Firewall is a family of physical, virtual and cloud-based enterprise grade firewalls that can manage complex distributed networks, while ensuring high performance cloud and site-to-site connectivity. Full next-generation security capabilities make sure that you have uninterrupted network availability and robust access to cloud-hosted applications. Scalable central management for up to thousands of devices reduce administrative overhead while defining and enforcing granular policies across your entire WAN.